Osbon Erecaid Tension Rings
SKU:

Erecaid Ring

UPC:

1610

Condition:

New

Availability:

Usually ships same day if ordered before 4pm Cental

Shipping:

Calculated at Checkout
Bulk discount rates
Below are the available bulk discount rates for each individual item when you purchase a certain amount
| | |
| --- | --- |
| Buy 4 or above | and pay only $18.50 each |
Description
TRY OUR NEWEST RING FROM ERECAIDPUMPS
ERECAIDPUMPS ACTIVE ULTIMATE GEL RINGS
CLICK LINK BELOW FOR MORE DETAILS
Erecaidpumps Active Ultimate Gel Ring Newest Most Comfortable Band Available
These patented tension rings are medically engineered for safety, performance and comfort. The unique upper extruding bumps are positioned to press against the veins that maintain an erection. The lower urethral notch allows for ejaculation. The rings may be used individually or in various combinations to maintain an erection created by the Vacuum Pump. The User Guide details seven possible combinations to accommodate a wide range of penile girths. Rings are latex-free and should be replaced every six months, pending usage.
Timm Medical, the manufacturer does not provide replacements for retailers or the end user, including broken handles. This product is purchased at your discretion.
Manufacturer: Timm Medical, AKA Osbon Medical, Timm Osbon, Osbon Erecaid
Timm Medical the manufacturer will not replace broken bands for resellers or end users.
For a better value alternative: Ultimate Round Rings Last Longer and more comfortable, also Try Silicones Bands. Last longers with a lower Price
How to determine ring size:
All Rings are interchangeable with any device and the inside diameter of the ring doesn't matter, since they all have to stretch onto a cylinder that is over 2inch in diameter.
Trying to determine the size of your penis versus the size of the ring is pointless. Tension needed is based on blood flow, therefore everyones level of tension is different in order to hold the erection. If you are larger in diameter start with the larger rings and work your way down until you find which holds the best for you.
These rings come in 2 sizes either Large or Medium and the color represents the degree of tension.
Pink is High Tension which comes in either Large size B or Medium size D
Beige is Standard Tension which comes in either Large A or Medium C
Gray is Low tension which comes in either Large B or Medium D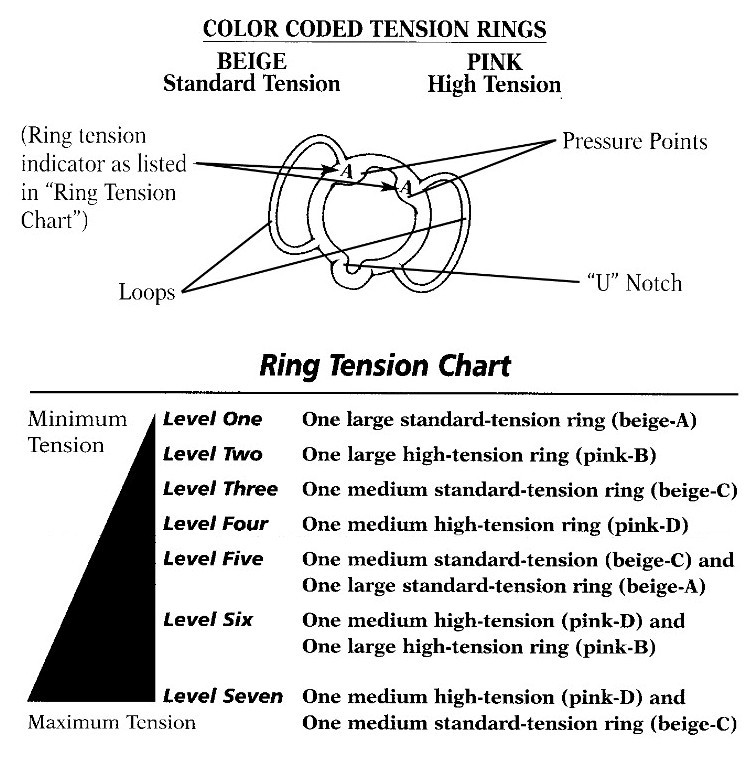 View All
Close
56 Reviews
good

pricey

They work really well

I have been using these for about 15 years with great results, however, I think that they are priced too high.

Excellent quality and resiliancy

I wish that you still offered the extra large size.

Your system has given me "Renewed" confidence and performance without the use of drugs or enhancing medication. The bangs are essential element of the system, therefore I am more than happy with the overall performance.

They are fine.

Love them even thou I ordered the wrong size...lol

Work well per my husband.
View All
Close