Luxe Bidet Neo 120
SKU:

NEO120

Availability:

Ship same day before 4pm Central time

Shipping:

Calculated at Checkout
Description
Install Your own bidet on your existing toilet. No Plumber Needed. All installation materials included.
5 Reasons a Bidet is a Better Choice for Your Bathroom Needs
Better personal hygiene and cleaning

Greatly reduce the impact you have on the environment

Save money and reduce household waste

Better skin care and more comfortable to use

Reduce plumbing problems and prevent clogs
Bidets are widely used across most countries around the world, but they are not commonly available in homes across the USA in spite of the advantages and benefits that a bidet offers over a toilet. Going to the bathroom is a subject that many consider taboo, and few discuss their bathroom habits or consider other options because of the sensitivity of this subject. At first you may find the idea of a bidet funny, anyone who has never used one does not realize just how great this bathroom appliance can be or what it offers.
At first you may be hesitant to try something new, especially in the bathroom. Anyone who has used a bidet loves it, and those who have one can not imagine going back to the old toilet paper method of cleaning after using the bathroom. You should not be embarrassed to discuss your bathroom needs, we all go and everyone wants to be clean afterward. The benefits of a bidet are numerous and using one can change your bathroom habits permanently. We believe every American has a right to feel clean and fresh after using the bathroom, and we want to help increase the popularity of the bidet in American homes.


Fresh water bidet with chrome-plated water pressure control knob

High-pressure faucet quality valves with metal/ceramic core

Standard size braided steel hose for water connection

Moveable nozzle guard gate

Sanitary nozzle retracts when not in use

Self-cleaning feature releases water directly over nozzle

Easily attaches to and detaches from any standard two-piece toilet

All accessories and instructions included for do-it-yourself installation

18 month warranty
Adjustable to Fit Most Two-Piece Toilets
Adjustable fitting plates allow the bidet to be securely screwed into place between the toilet bowl and seat. The bidet will attach to most two-piece toilets (where the bowl and tank are separate) and some one-piece toilets.

Nozzle Guard Gate
The hygienic nozzle guard gate ensures the bidet is always ready for clean operation. The guard gate opens for access to the nozzle.

Retractable Nozzle Stays Clean
The nozzle only drops below the guard gate when the bidet is used. When the water is turned off, the nozzle automatically retracts for hygienic storage.

Convenient Nozzle Cleaning Feature
While the bidet is designed to keep the retractable nozzle clean, this model also has a cleaning feature to thoroughly rinse the nozzle.

Activate and Adjust Water Pressure Easily
The unobtrusive control panel features a chrome-plated knob that allows the user to activate and adjust water pressure. With clearly defined settings, the bidet can easily be operated by children and the elderly. A second knob switches from wash to nozzle cleaning.

Quality Construction and Components
Neo bidets feature high-pressure valves with a metal or ceramic core. These are the same valves used in quality faucets and showerheads. Braided steel hoses are included to connect the bidet to the water source. These fittings match standard U.S. plumbing sizes.

ASME Plumbing Standards
Neo bidets have passed the widely accepted ASME plumbing standards for manufacturing materials, durability and water pressure requirements. Neo bidets have passed sections dealing with durability (sections 3.4, 5.6, 5.7, 5.8), functionality (sections 2.6, 3.6, 4.1), material quality (4.9, 4.14, 5.1, 5.2 ), compatibility and design (4.2, 4.4, 6.0), and high pressure testing (section 3.2, 5.3, 5.5) of ASME A11218.1-2012/CSA and ASME A112.4.2-2009 as tested in IAPMO R&T lab.

Additional Details
Product comes with an 18 month manufacturer's warranty.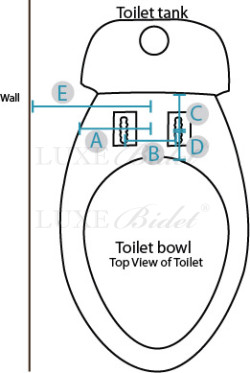 Toilet Dimensions
Center of toilet to the edge: maximum 7.75"
Distance between the two screws: between 3.5" to 8.25"
Distance from screw to toilet tank: minimum 1.0"
Distance from the screw to the edge of the toilet bowl: between 1.25" to 3.5"
Distance from the center of the toilet to the wall: minimum 11.5"

View All
Close